Welcome to Matsutani Lab @ Keio University, Japan
---

Research
We have researched on system infrastructure for big data and artificial intelligence (AI). In addition to existing software and network technology, we employ "accelerators" to do special research. Specifically, our research is shown below. We want to do research with YOU!
* For more infomation, you can visit this page.

---
NOSQL accelerators for big data(2013-present)
Big data is a large amount of information about biological organism, weather, physics, finance, Internet, network services and so on. We are expecting to apply big data for decision making in management, trend forecasting, crime prevention and traffic condition analysis by accumulating and analyzing it.
In addition to RDBMS, many researchers pay attention to structured storage or NOSQL (e.g., BigTable from Google) to accumulate and search big data.
We have been developing accelerators for NOSQL with many FPGAs which have four 10 Gigabit Ethernet (equal to 40Gbps!) interfaces.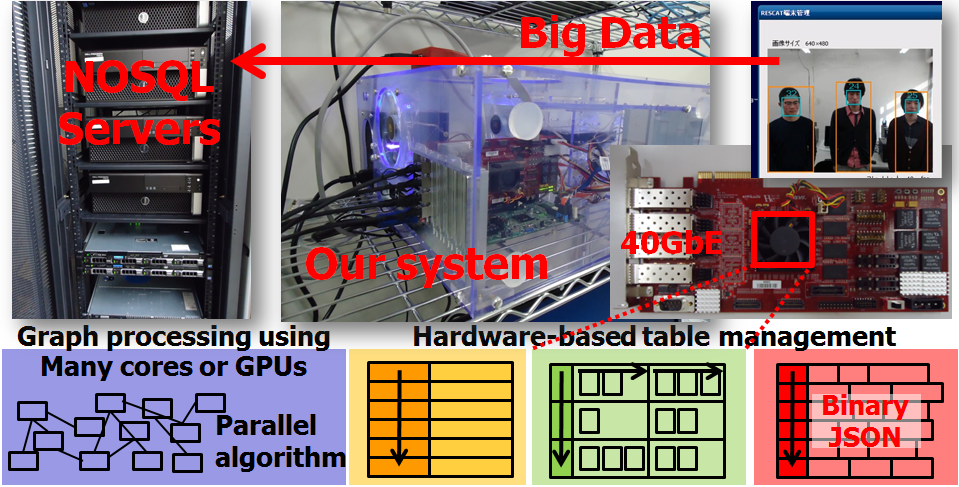 In fact, we have accumulated 3D topographical data from unmanned aerial vehicle (UAV) and pedestrian data from customer analysis system that determined age and gender from pictures. We also made it possible to search and analyze them quickly.
We are also doing research on Blockchain.


*A part of our research is supported by Japan Science and Technology (JST).

---
Acceleration of machine learning and big data analysis with FPGA (2014-present)
Machine learning is a kind of artificial intelligence technologies that computers learn what men learn. For example, it is used for deriving rules and knowledge from given data.
We have been working on acceleration of machine learning in order to extract useful data from big data. Actually, we implemented machine learning algorithms on network interface card (NIC) possessing 10 Gigabit Ethernet and enabled to detect outlier (e.g., suspicious person) and change point (e.g., stock price). "NIC with machine learning algorithm" realized about 10 Gbps as outlier detection performance.
These days, we are often doing research on acceleration of distributed machine learning.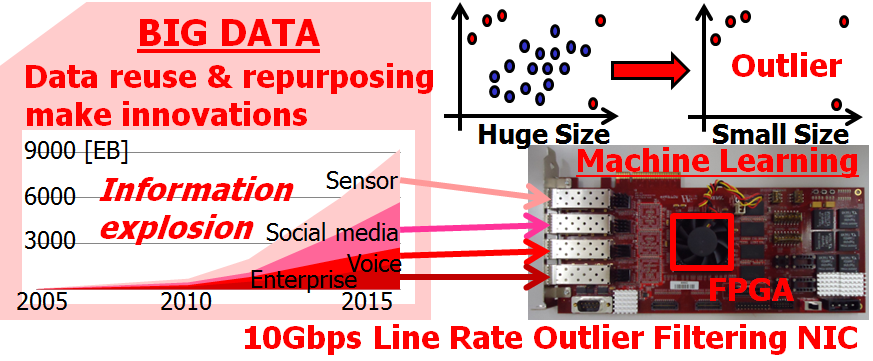 We also doing research on acceleration of big data analysis frameworks such as Hadoop, Spark and Spark Streaming with FPGAs!



*A part of research is supported by New Energy and Industrial Technology Development Organization (NEDO).

---
Rack scale architecture for virtual reality (2015-present)
Technology companies like Google and Facebook have many computational facilities in their data centers. We are doing research to realize efficient data center. In fact, as shown below, we put computational "components" such as CPUs, RAMs, Disks, GPUs and FPGAs in a container instead of full set of computers. Then, we connect these components when necessary to make a full computer as software defines and release them when operations are all done. Therefore, it becomes considerably efficient, because these components can be used for other purposes.
We are trying to realize computational service for virtual reality (VR). If it will work well, users will be able to enjoy VR without high-end PC.

---
Data center network with light beam (2012-present)
In addition to search engines on the Internet, there are plenty of users of SNS, online shopping websites, online games, video-sharing websites and so on. Such services use many computational resources. Computers are usually stored in server racks and they are stored in data centers.
We were able to communicate at 40 Gbps between server racks using a collimator lens. We can connect any server racks at 40 Gbps by changing a direction of lens. We call it "40 Gbps high-way" and think of transferring big data and virtual machine using a light beam.


*We are collaborating on the research with Koibuchi Laboratory at National Institute of Informatics (NII).
*A part of research is supported by Ministry of Internal Affairs and Communications.

---
Analysis of social graph with GPU (2013-present)
The social graph is the network to show relationship between users. For example, Facebook has more than a billion nodes and each node connects with 200 nodes on average. Researchers expect to apply the social graph for recommendation engine.
The social graph becomes massive, so we use Graphics Processing Unit (GPU) to analyze it faster (shown below). Some people may imagine 3D video games working on PCs when saying GPU. Otherwise, we realized over 200 times higher performance by GPU than by CPU when searching for the social graph.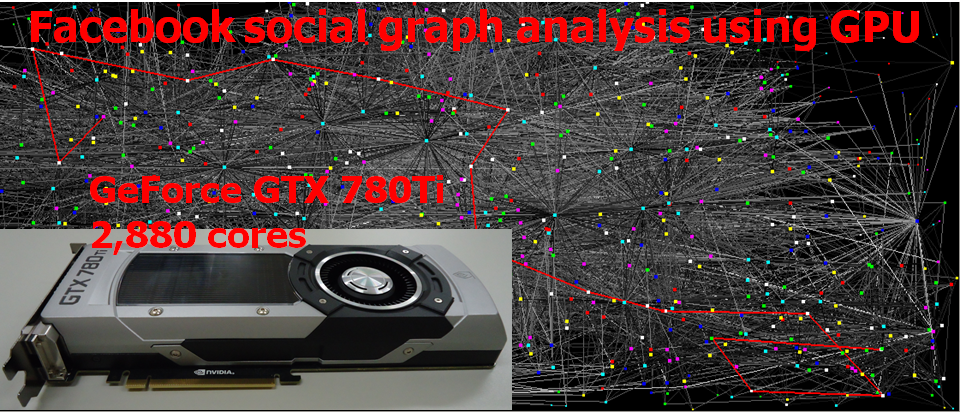 *A part of our research is supported by Japan Science and Technology (JST).

---
3D stacking many-core processors with wireless chip interconnect (2009-present)
Multi-core processors have become general. These days, there are 2 or 4 cores on CPUs. Many researchers are working on "many-core processors", which is the chip with several tens to hundreds of processors integrated.
Processors on the chip exchange data by the network structure called Network-on-Chip (NoC). We have done research on stacking a lot of processors vertically.
Wireless 3D NoC research is particularly unique even from a global perspective (shown below). Horizontal network employs metal wiring as usual in the chip. We also use wireless technology for vertical network between chips, which has been researched by Kuroda Laboratory has researched in Keio University. We have done research on computers which can replace chips, because connection between chips is wireless.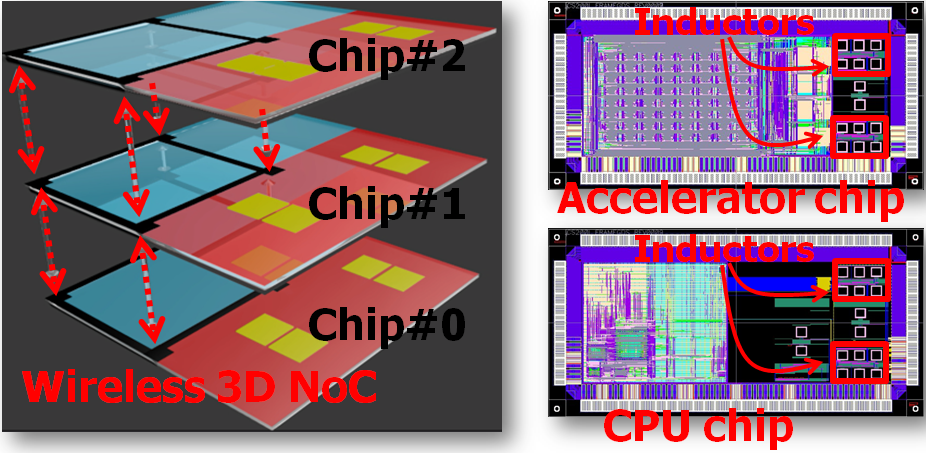 *We are collaborating on the research with Amano Laboratory of Department of Information and Computer Science at Keio University. We also have been doing research with Carnegie Mellon University and South California University.

---
Department of Information and Computer Science
3-14-1 Hiyoshi, Kouhoku-ku, Yokohama, Kanagawa, JAPAN 223-8522
Laboratory
26-207, 26-210A, Yagami Campus, Keio University
Access
View (26-207、26-210A)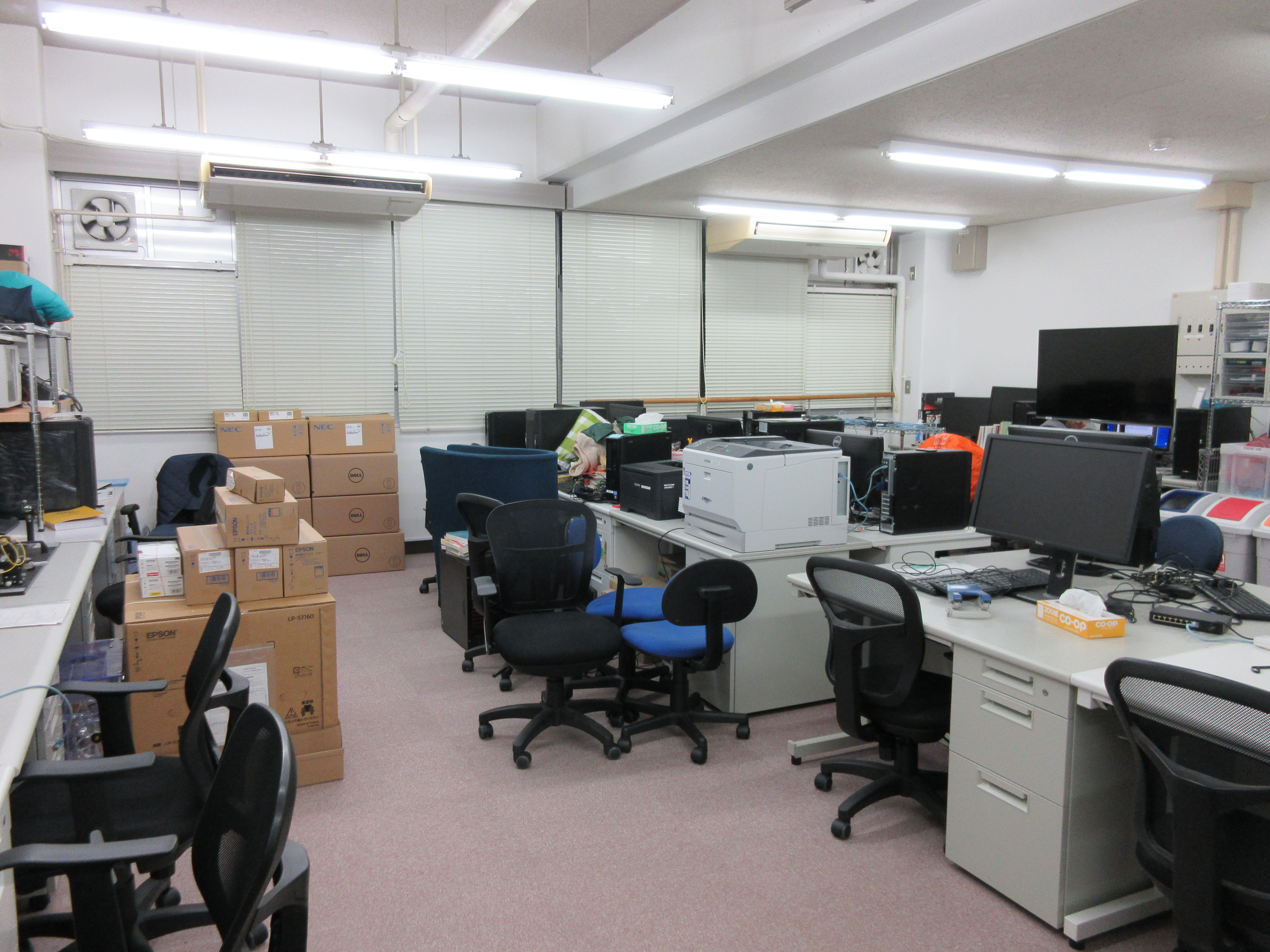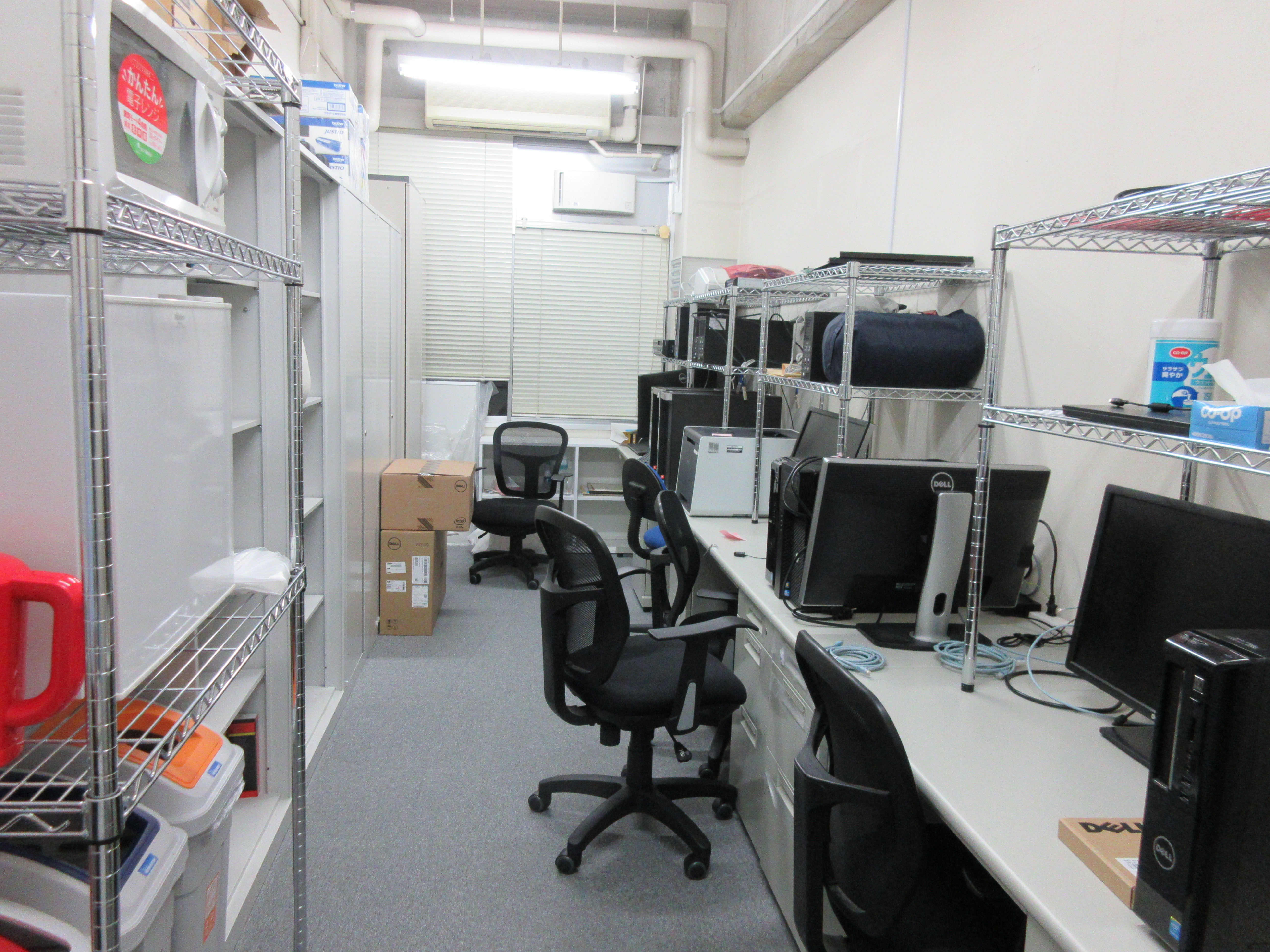 ---
Associate professor
Ph.D Researchers
Ph.D Candidates
2nd-Year Master Course Students
Masahiro Okazaki
Kazumasa Kishiki
Yuma Sakakibara
Kazuma Takemoto
Koya Mitsuzuka
Sota Yagi
1st-Year Master Course Students
Takuma Iwata
Kaho Okuyama
Mineto Tsukada
4th-Year Bachelor Course Students
Tomoya Itsubo
Rei Ito
Koji Suzuki
Marin Natsume
Tomoki Harutake